Details
The larger GP1 pumps are built with compact cast iron housings for strength.
The gear pumps complement our heavy duty piston pumps and vane pumps. The performance and characteristics are ideal for many light and/or intermittent applications, including the famous Parker reliability, and they are engineered with a long, trouble-free service life.
Features of the GP1 are:
• Compact and light weight - easy to install even on small vehicles
• Operating pressure up to 260 bar
• Quiet operation - low noise emissions are important in sensitive areas
• Robust and reliable - means a long, trouble-free service life
• Built for high rpm's - less sensitive to over-speeding
• Bi-directional - easy to install

• Side or rear mount - use the ports on the side or at the rear, whichever is most suitable for the application.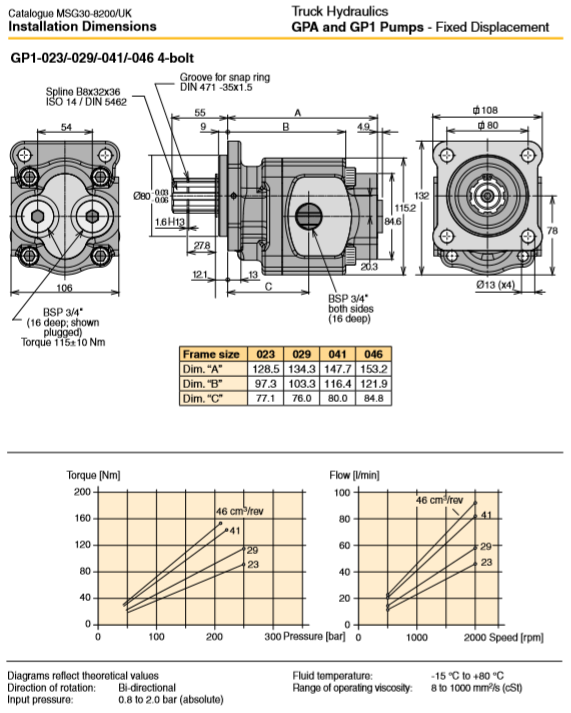 Size

023

029

041

046

050

060

080

Displacement [cm3/rev]

23

29

41

46

50

60

80

Max. pressure [BAR]

250

250

220

210

260

250

210

Speed [rpm]

min.

max.

 

500

2000

 

500

2000

 

500

2000

 

500

2000

 

500

2000

 

500

1800

 

500

1600

Weight [kg]

7,3

7,7

8,5

8,8

13

13,5

14
Info
Hydraulic circle type
Open
Energy recovery ability
No
Liquid type
Standard hydraulic fluid
Maximum liquid temperature
120 °C
Minimum liquid temperature
-40 °C
Maximum kinematic viscosity
4664 SUS
Minimum kinematics viscosity
38 SUS
Connector location
Side - Back
Pump type
Gear / Cast iron