Details
The design is very similar to that of the F1 series pumps but is even more compact. It utilizes our well proven 45° concepts with spherical pistons and laminated piston rings, offering high volumetric and mechanical efficien¬cies and, thanks also to the small number of parts, unprecedented reliability.

Typical T1 applications
• Front end tippers
• Under body tippers
• Hydraulic system infrequently used and with short cycle times.
High overall system efficiency
• Shaft speed to 2300 rpm
• Operating pressure up to 350 bar
• High overall efficiency
• Low weight
• Small installation dimensions
• Robust construction 
• Spherical piston, low internal leakage
• Laminated Piston Ring, design patent
The T1 with shaft and mounting flange configuration conforming to the European standard, can be installed on most European truck gearboxes. Suitable power take-offs are also available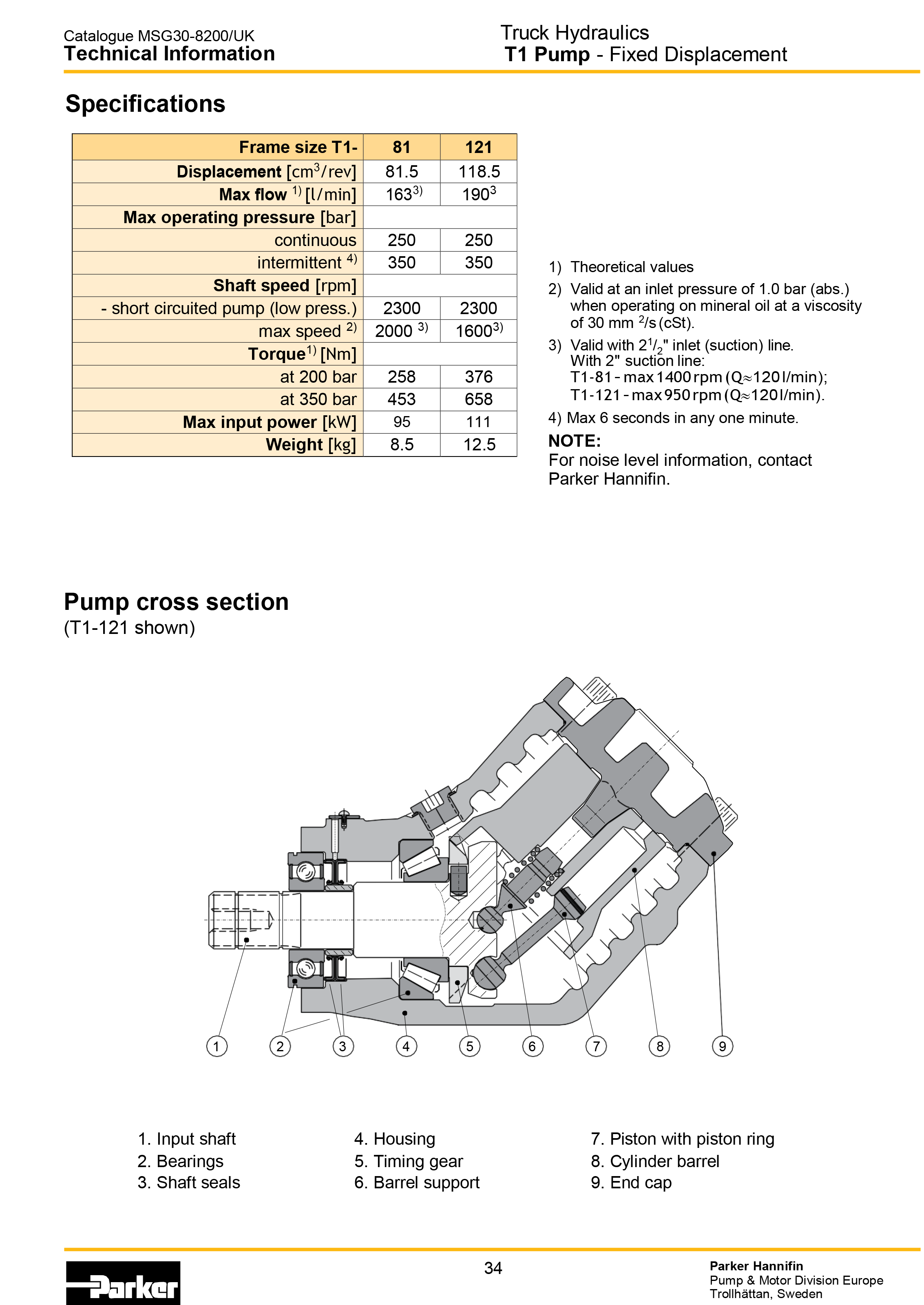 | | | |
| --- | --- | --- |
| Frame size | 81 | 121 |
| Displacement [cm3/rev] | 81,5 | 118,5 |
| Max flow [l/min] | 163 | 190 |
| Max operating pressure [bar] | | |
| continuous | 250 | 250 |
| intermittent | 350 | 350 |
| Max Shaft speed [rpm] | | |
| short circuited pump (low pressure) | 2300 | 2300 |
| max speed | 2000 | 1600 |
| Torque [Nm] | | |
| at 200 bar | 258 | 376 |
| at 350 bar | 453 | 658 |
| Max input power [kW] | 95 | 111 |
| Weight [kg] | 8,5 | 12,5 |
Info
Hydraulic circle type
Open
Energy recovery ability
No
Liquid type
Standard hydraulic liquid
Maximum liquid temperature
120 °C 248 °F
Minimum liquid temperature
-40 °C -40 °F
Maximum kinematic viscosity
1866 SUS
Minimum kinematics viscosity
47 SUS
Connector location
Rear ports