Details
Save on fuel!
For the average truck running 100,000 kilometres a year savings can amount to between 200 and 300 litres (45–65 gallons) less diesel, with a corresponding reduction in emissions of greenhouse gases and particulates, all due to the F3 pump being completely disconnectable when not in use. This is a unique, patented characteristic now being launched by Parker.
Enhanced reliabaility!
When a pump is fitted to an engine PTO, even small mishaps like a ruptured hose can result in having to be recovered and towed to a workshop, with all its downsides by way of major outlay and high downtime costs. With the new F3 pump, you just disconnect the pump and make your way home under your own steam!
Cuts noise levels!
Compared to a conventional hydraulic pump in the unloaded position, the new F3 pump generates considerably lower noise levels in disconnected mode – this makes matching future noise emissions regulations easier.
Rigorous product testing and continuous product development help to ensure our hydraulic pumps operate at optimum efficiency and can perform in the most demanding environments.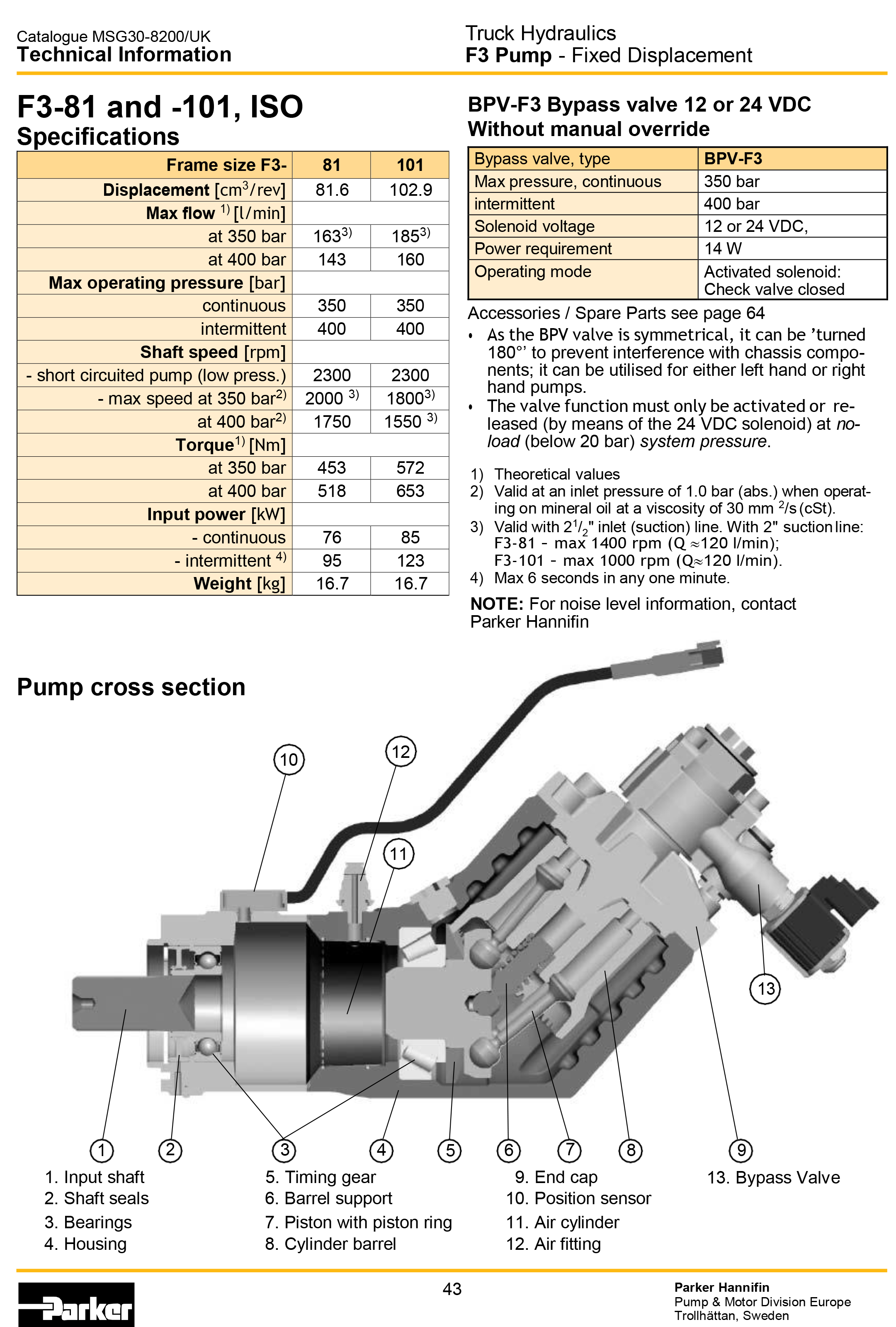 | | | |
| --- | --- | --- |
| Frame size | 81 | 101 |
| Displacement [cm3/rev] | 81,6 | 102,9 |
| Max flow [l/min] | | |
| at 350 bar | 163 | 185 |
| at 400 bar | 143 | 160 |
| Max operating pressure [bar] | | |
| continuous | 350 | 350 |
| intermittent | 400 | 400 |
| Max Shaft speed [rpm] | | |
| short circuited pump (low pressure) | 2300 | 2300 |
| max speed at 350 bar | 2000 | 1800 |
| at 400 bar | 1750 | 1550 |
| Torque [Nm] | | |
| at 350 bar | 453 | 572 |
| at 400 bar | 518 | 653 |
| Max input power [kW] | | |
| continuous | 76 | 85 |
| intermittent | 95 | 123 |
| Weight [kg] | 16,7 | 16,7 |
Info
Hydraulic circle type
Open
Energy recovery ability
No
Liquid type
Standard hydraulic liquid
Maximum liquid temperature
120 °C 248 °F
Minimum liquid temperature
-40 °C -40 °F
Maximum kinematic viscosity
1866 SUS
Minimum kinematics viscosity
47 SUS
Connector location
Rear ports